Code of Ethics & Conduct Chiesi GmbH
Chiesi GmbH is a company in the pharmaceutical industry. We sell innovative products, and our goal is to promote the research and development of new products and treatment methods as well as to improve the quality of medical standards for the good of the patient. We therefore have diverse links with scientists, clinics, doctors, universities, public health departments, pharmacists and medical institutions and their employees. As part of our activities, we are dependent on a trusting cooperation between all those involved in healthcare provision.
One of the main policies of our company is to strictly observe the applicable law in all our activities. Our code of conduct contains clear guidelines for a successful, trusting cooperation with private and public healthcare institutions and their employees, as well as with medical practitioners and patient organisations. The rules are there to increase transparency in all our activities and to prevent annoyances and erroneous trends in this sensitive area. This ensures the smooth running of all measures, to the benefit of all those involved, as well as Chiesi GmbH and its employees.
Chiesi GmbH is a member of the "Arzneimittel und Kooperation im Gesundheitswesen e.V.(AKG e.V.)" (pharmaceuticals and cooperation in healthcare association). The Chiesi code of conduct is consistent with the AKG e.V. rules of conduct.<V.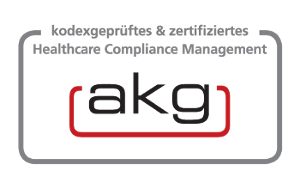 Chiesi GmbH was awarded the AKG Healthcare Compliance Seal for the first time in November 2016.


The seal certifies that Chiesi implemented an effective compliance management based on very high standards and that all organisational measures are geared towards the ethical codes of the AKG.